On November 9th, Alluvion Health hosted a public meeting to present updates on the ongoing construction of the Alluvion Health at 601 Central project, formerly known as the Rocky Mountain Building. During the meeting, Alluvion Health officials and representatives from Sletten Construction, Nelson Architects, and True Mountain Capitol, LLC presented information about the project, including updates on construction progress, details of the design of the final building, and information about the funding of the project.
Alluvion Health Updates
Trista Besich, CEO of Alluvion Health, presented the history of Alluvion Health. Founded in 1994, Alluvion Health started as a sub-department of the Cascade City-County Health Department until 2019, when it separated and rebranded as Alluvion Health. Since 2019 Alluvion Health has expanded, adding school-based medical and behavioral health services, increasing dental services, establishing the Alluvion Health Pharmacy, Adlera Lab, and more. Alluvion Health at 601 Central will allow Alluvion Health to continue to grow – centralizing many services into a single building while creating capacity for 50-100 jobs in healthcare and related fields immediately upon opening the new facility.
Besich also noted that Alluvion Health's mission has not only been to create and inspire healthier lives, but also to create and inspire healthier communities. The renovation's $29 million investment, the largest in Downtown Great Falls history, will improve not just Alluvion Health but all of Great Falls. In 2021, Alluvion's operations 218 high-wage jobs in Northcentral Montana and generated $31.1 million in North Central Montana, both in direct health center spending, as well as community spending. Alluvion Health at 601 Central will allow Alluvion to continue to grow its impact in Great Falls and Northcentral Montana.
Design Updates
Ryan Smith, an architect from Nelson Architects, presented the following digital fly-through of the project. The fly-through shows what the building will look like once completed, including a dental clinic and pharmacy on the first floor, clinical services on the second and third floors, and administrative offices on the fourth and fifth floors. Throughout the fly-though, you can see historical elements of the Rocky Mountain Building that are being preserved, including the old boiler face, original radiators, salvaged wood elements, brick, terra cotta, and much more.
Construction Updates
Dave Smith, the Project Manager for Sletten Construction, gave updates on the construction project's progress. As of November 10th, the installation of helical piers is being completed. Helical piers are installed into the ground underneath to support the weight of the building. Once the piers are installed, Sletten Construction will begin working on the interior floors of the building. Smith shared that Sletten anticipates that the project will be completed by August of 2024, the 30th anniversary of the founding of Alluvion Health. Smith also shared photos of the ongoing construction work attached below.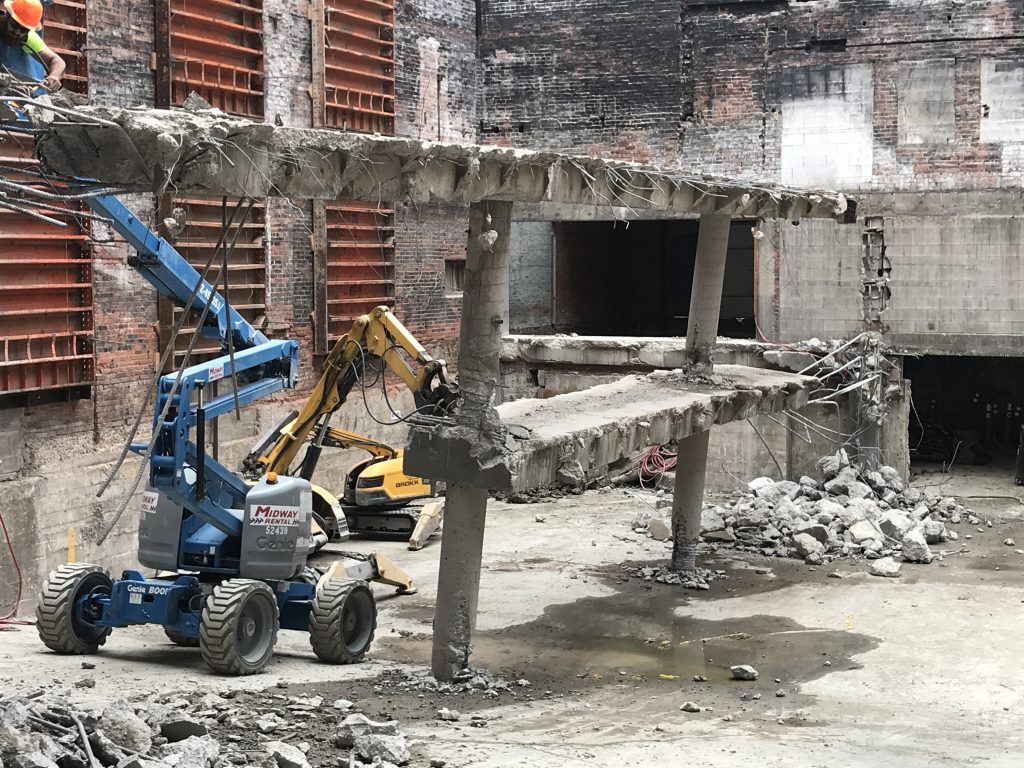 Project Funding
Finally, Jeff Cotton, President and CEO of True Mountain Capital presented how the project is being funded. Alluvion Health at 601 Central is financed through New Market Tax Credits and Historic Tax Credits. New Market Tax Credits are incentives given to investors to encourage funding of community development projects in low-income communities, such as Alluvion Health at 601. Through the tax credits, up to 39% of the investment is paid for through tax credits. Historic Tax Credits are given to developers who are rehabilitating historic buildings. These tax credits provide developers with a 20% income tax credit, allowing the saved money to go directly into funding construction.